Last night something very very special and one of a kind occurred down on the Sunset Strip. None other than the New Kids On The Block played a "private"/"secret" show rehearsal in preparation for their upcoming appearance on Good Morning America this Friday.
The only logical thing I could think of doing when I found myself standing in the venue awaiting the kids first appearance on a stage in front of fans in 15 years – was to PINCH MYSELF. HOW the HECK did I finally get the chance to see my 6 year old dreams fulfilled? I spent my younger years playing with the nkotb Barbie Dolls, wearing the themed nightgowns while sleeping in my official nkotb sleeping back with the matching pillowcase – this was serious business for me as a kid. Sadly though, the closest thing I ever got to seeing them in concert was watching one of their live shows from a Vegas hotel room…until now!!!
Thanks to my good friend and co-worker Gina Star I was informed about this secret special event on Monday and God bless the soul of Peter Torres (Rock A&R for Thrive) for pulling through and getting Jenna and I on the house list for this event.
Around 8:30 a blank white screen covered the curtains of the stage of the House of Blues Sunset and the shrill screams of grown women filled the room like an arena. A montage style video full of tons of New Kids nostalgia on film proceeded to remind each and every one of us why we were there… after all these years we were all just as excited as we would have been back then.
The white screen was replaced by 5 microphones and as the curtains rose so did the decibels in the room, to such a level that one would think they were at the Staples center witnessing 20,000 pre-tweens cheer for Miley Cyrus.
The Kids (or men, rather) hit the stage sharp dressed, in shape and accompanied by a full line of back up dancers. The stage reached into the middle of the room and NKOTB danced their routines and hit their notes with such finesse…we all forgot they are now in their 30's and 40's? The room was enamored, elated, and ecstatic - the energy was unlike anything I've ever witnessed.
It was a short performance, The Kids played a wonderful medley of their hits, which included Step By Step, Please Don't Go Girl, Hangin' Tough, The Right Stuff and more. They then continued with their new single "Summertime" and finished off the night with one more song and dance - along with a very sweet farewell to the crowd.
Cell phones and cameras were not aloud in the venue, but thank God for my boots – I snuck my blackberry in and towards the very end I was lucky enough to snap a few shots to share with you all. Check 'em out below as well as a few youtube vids I thought were quite appropriate to share.
OH and ps-
Joey is still my favorite. He's still just so darn cute.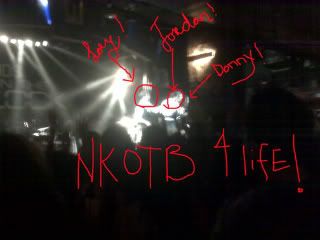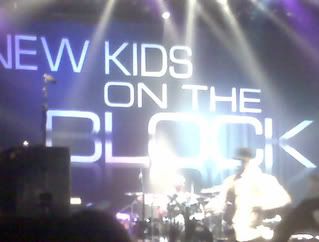 This was one of my favorites of all things that came of the new kids:
The New Kids On The Block Reunion Tour! Are You Ready? They'll Be In So. Cal This FALL!!!!! :)